Before I begin today's post I have a very exciting update. My new desk is being delivered next Monday. I'm taking a two day staycation next week to assemble 400 lbs of flat pack bliss. I plan to document the assembly in a blog post so stay tuned.
Page 4 - Apollo 13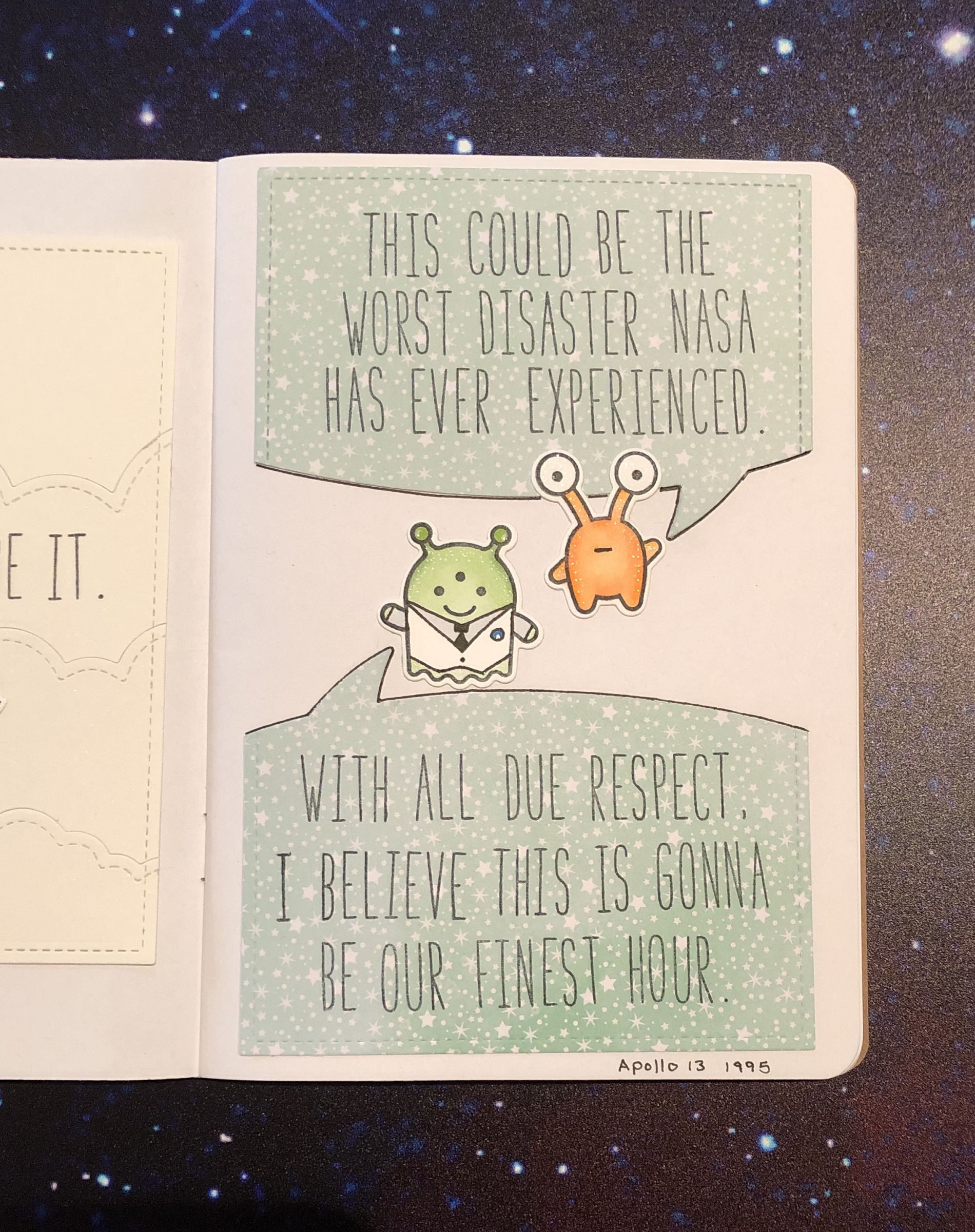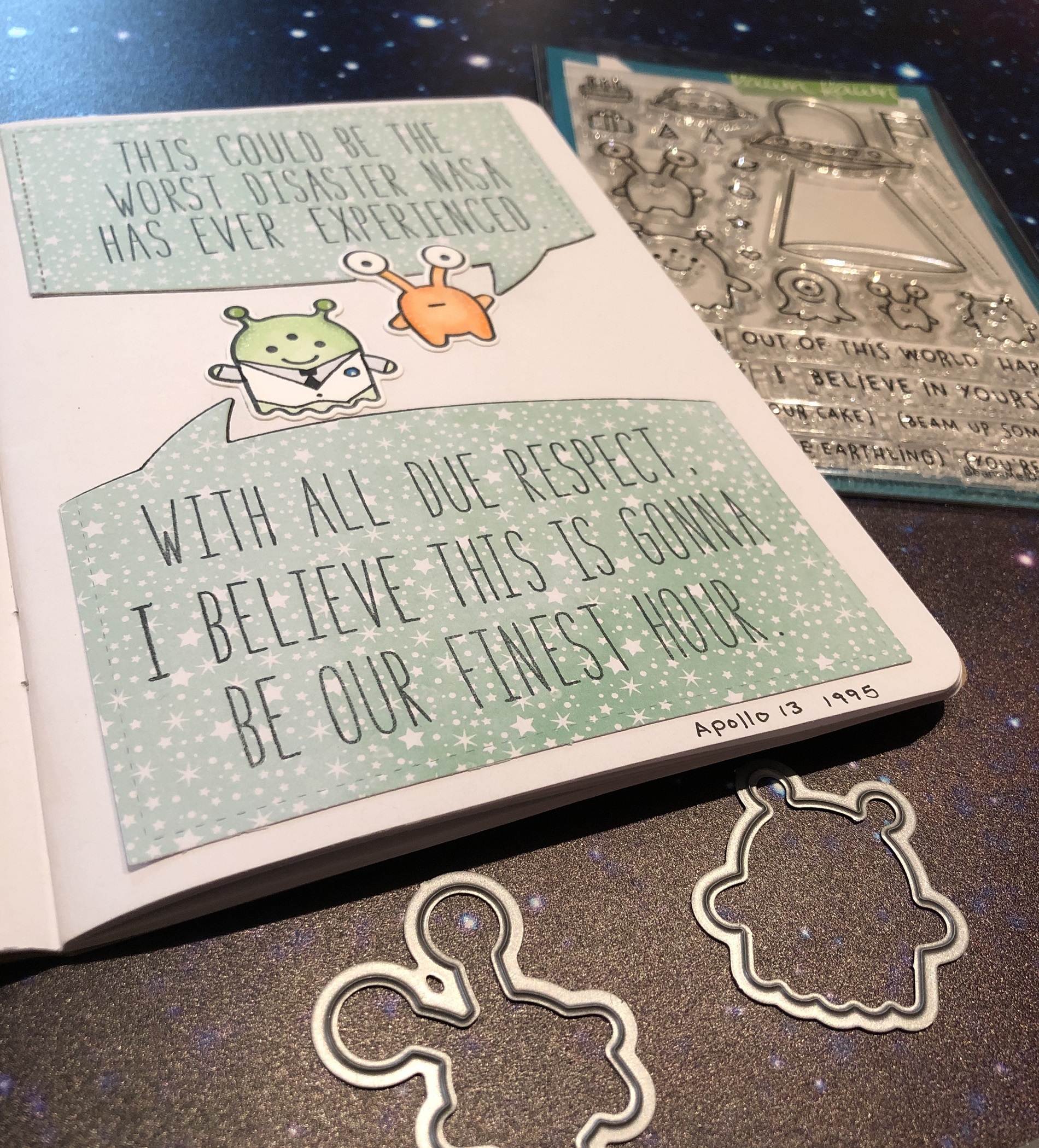 Wise advice I was given once. Every leader should have a favorite famous leadership moment reflecting their core values. I initally shrugged it off. Me? I could never be like Teddy Roosevelt leading the Rough Riders at the front lines of the Battle of San Juan Hill.
The advice finally sunk in and I've picked my leadership moment. Gene Kranz leading the Mission Control team efforts to save the crew of Apollo 13. Even though the stakes are not has high can I improve my ability to lead by channeling my inner Kranz in times of crisis?
Apollo 13 is not only a great story about leadership but also teamwork and accountability/ownership.
I thought it would be clever to have the Apollo 13 page of the sketchbook star aliens from Lawn Fawn Beam Me Up. I used my favorite Micron pen to add Gene's iconic white vest to the green alien. I went through a few prototypes and iterations to ensure I captured the right details. Everything was colored in with Copic markers.
I used Lawn Fawn Milo's ABCs for the quote. For the speech bubbles I used Lawn Fawn Stitched Rectangle Stackable and then cut the quotes out using the Lawn Fawn Speech Bubble Border.
Blog Tech Detail Updates
I've started two backlogs:
The sketchbook craft backlog is a simple Google Sheet of some of the Movie Quotes I might want to incorporate into the sketchbook.

The technical backlog is managed through GitLab issues and is how I'm tracking/prioritizing the different features I'd like to implement.
A few highlights of the recent changes:
A new theme has been applied to the site. I'll probably end up forking the theme, pelican-bootstrap3, when I'm ready for more customization but for now it was an easy way to get support for some of the features I wanted.
I got the Series plugin setup so that at the bottom of the post you'll see related articles in the series. It just takes one additional line in each of my posts to tie them together to their series.
Disqus commenting is now integratated into each post. The theme I chose meant that adding Disqus to my blog was as simple as adding a single line of code. Disqus has some awesome out of the box features in their free tier and also great beginner recommendations about establishing an explicit Comment Policy to ensure the community reflects the type of discussions I want to encourage by sharing my work to begin with. I'm looking forward to playing with some of the features and analytics in more depth.
Want to help me test the new comment feature? Without logging in you can react to this post with an emoji at the bottom of the page. Or if you're feeling really ambitious leave a comment to share your throughts on this post.
Thanks for reading!
Natasha Tomasik (a.k.a. Natasha As A Service)